Status of manned space in 2021
Since it has been a while since our last meeting, I'd thought I would post a status of manned space for 2021. I'm recovering from a 4 day Internet and Uverse TV outage and glad to be connected to the information torrent again.
The Inspiration 4 crew of 4 returned to an Atlantic splashdown off the coast of Florida in their SpaceX crewed Dragon capsule last Saturday, September 18, after orbiting for 3 days higher than people have gone since the Hubble repair missions and the Apollo astronauts with a 367 mile (590 km) high orbit. The mission was the first private orbital spaceflight and was focused on raising money for St. Jude's Hospital. One member of the crew, Hayley Arceneau, is a survivor of childhood cancer and was successfully treated there. She currently works at St. Jude as a physician's assistant and she set the record for the youngest American to go into space at age 29.
One of our MASS members, Beth, had the honor of being invited to Florida to watch the launch. Beth is friends with mission member, Dr. Sian Proctor. With her special VIP access she was able to say that "Elon Musk is taller than she expected." See the Elon Musk selfie below.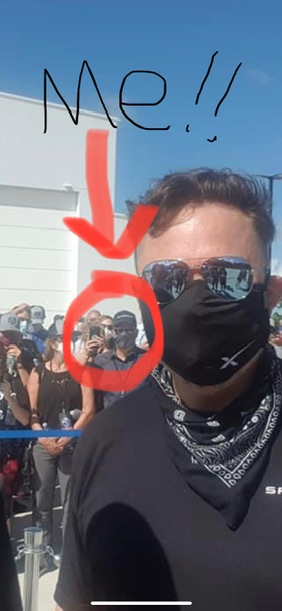 I haven't heard too much about this in the press, but we set a record with 14 people simultaneously orbiting in space with the Inspiration 4 crew of 4. There were 7 people on the ISS, (3 from a Soyuz launch and 4 from a NASA Dragon launch) and 3 taikonauts on the Chinese space station. Earlier this year, the record for number of people in space was briefly set (for 15 minutes) at 16 when Virgin Galactic had their 6 people flying in SpaceShip for 15 minutes. That broke the record set earlier in July when Blue Origin set a record of 14 people in space during their 15 minute sub-orbital flight. Even though there were more people for a quarter hour, nothing beats orbiting for 3 days as the true record setting occurrence.
We are back down to only 7 people now, with the Chinese landing in the Gobi desert on Friday, September 16, after 92 days in space. The Shenzhou 12 mission broke China's endurance record by a large margin and was aided by their new space station, Tiangong-3.
The current ISS astronauts were launched on 2 separate missions. On April 9th the Soyuz MS-18 carried 2 Russians and 1 American up to the space station and on April 23rd the Dragon CREW2 mission carried 2 Americans, 1 Japanese JAXA astronaut and 1 French ESA astronaut into space.
With the large crew of 7 on ISS for this year, mankind has just set another record today, September 21, for the most person-days spent in space during a calendar year. As of today, there have been 2196 person-days in 2021 breaking the old record set in 2010 of 2190 days.
The 2196 days come from primarily the crew on the ISS. The Soyuz MS-17 crew of 3 spent 106.2 days in space (318.6 person-days). The Dragon CREW1 crew of 4 spent 121.3 days in space (485.2 person-days). The Soyuz MS-18 crew of 3 has spent 165.7 days in space as of today (497.1 person-days). Lastly, the Dragon CREW3 crew of 4 has spent 151.6 days as of today (606.4 person-days). That gives the ISS a total of 1907.3 person-days for 2021 which is the vast majority of time spent in space this year. The remaining time comes from the Inspiration 4 mission with its crew of 4 adding 12 person-days and China's Shenzhou 12 mission crew of 3 adding 276.6 person-days. The 12 short sub-orbital fliers this year from Blue Origin and Virgin Galactic only contributed a total of .12 days.
Upcoming missions for 2021 include, a crew of 3 launching on October 5 on Soyuz MS-19. The crew includes a Russian actress and her director who are scheduled to dock to the ISS and stay a couple of weeks filming a movie. The Shenzhou 13 mission launching from China on October 16 will send a crew of 3 for a 90 day stay on their space station. The CREW3 NASA mission launching on October 31 on a SpaceX crewed Dragon will be sending a crew of 4 to the ISS for a 6 month stay. And the last orbital mission scheduled for 2021, is another Russian Soyuz. The MS-20 capsule is launching on December 8 with a crew of 3, including 2 space tourists and a cosmonaut who will spend 12 days on ISS. The final potential mission for 2021, is a sub-orbital mission from Virgin Galactic scheduled for no earlier than mid-October with 2 pilots and staff from the Italian Air Force.
Be sure to check my monthly estimate for people going into space during 2021 in "Jim's Blog" in this website and follow our "MASS prize" status under "MASS on Commercial Crew" also in the website's title bar.
If you are keeping track of the total number of people who have gone into space, the count should be 594. This site from supercluster.com is the best for tracking people in space. They count anyone who has met the US Air Force criterion of 50 miles. Their website shows 595 as the count but for some reason they skipped number 575 (between Beth Moses 574 and Christina Koch 576) in their database. If anyone knows why they did that, I'd appreciate a contact.